In our first pairing for the literary exchange, we look at secret green places of childhood setting off bold adventures.
Cosy Castle is a boxy, grey building where children walk on tippy toes from fear of the dreadful 'dragon' and the crotchety 'crone'. With Nivi Mallik's arrival, the rules start to change. The bimbli trees become the hang-out spot for two giggly girls and the driveway is a permanent cricket pitch for the boys. But the happy times are soon ended by the 'dragon' and the 'crone', who gang up against the children and declare war on the bimbli trees…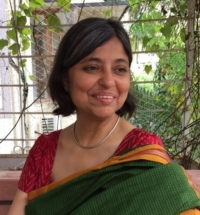 Shabnam Minwalla is a Mumbai-holic, best known as a chronicler of her magical, maddening city – both through fiction for children and non-fiction for adults. The Six Spellmakers of Dorabji Street was her first book. Since then, she has written several other award-winning titles for young readers in India. A graduate from St Xavier's College in Mumbai, Shabnam did her Masters at the University of Southern California in Los Angeles and was a Chevening scholar at Wolfson College in Cambridge University.