The World Wide Fund for Nature (WWF) began its journey in India in the 1970s and has been at the forefront of Environmental Education in the country. In an interview with Meghaa Gupta, Editor (Youth) Sustainabilitynext.in, Radhika Suri, Director of Environment Education at the organisation speaks of how its journey has evolved over the years and offers a peek at the several exciting initiatives the organisation has for young people everywhere.
Q1. Environment Education (EE) is one of the oldest divisions at WWF India. It began in the 1970s, even before environment education became an area of interest. What was the belief that led to this emphasis on environment education?
We're so proud that WWF began in India with immense focus on its education work. We believe that to understand nature and its interconnectedness, you have to immerse yourself in it. This belief guided the launch of the pioneering programme called Nature Clubs of India (NCI) by WWF way back in 1976. The idea was to take children outdoors to experience and connect with nature.
So many young people were influenced and inspired by the NCI movement during its three-decade run. In fact, many of them are well-known leaders in their fields today! For example, Dr Ashish Kothari, who started the NGO Kalpavriksh and Dr Nitin Kakodkar, the Principal Chief Conservator of Forests in Maharashtra were influenced by the NCI movement in their youth. WWF's own Dr Sejal Worah's early experiences working with children were thanks to the NCI movement! Our EE programmes have evolved to change with the times as well. The changing landscape of education, the rise of technology-aided learning and the 21st century child have shaped our approach to EE, resulting in many exciting initiatives!
Q2. In its 2003 ruling, the Supreme Court directed that EE be taught as a compulsory subject in Indian schools. How has EE and your work in this space evolved in the light of this directive?
The Supreme Court's directive was a huge milestone. And it has boosted WWF India's resolve to continue its education work to build environmental stewardship in people by connecting them with nature. We've made it a point to develop initiatives that are exciting and engaging for every kind of learner. There's a thrilling environmental quiz called the Wild Wisdom Global Challenge that we organize every year. We've got amazing nature programmes that give children and youth opportunities for fun, action-based learning experience. For example, Ek Prithvi is an action-oriented whole-school programme for students of government schools across the country. Nature Connect is a programme that takes children outdoors to help them learn about the local environment. We've applied gamified approaches to exploring nature by creating a number of fun-filled environment-themed digital resources on our amazing online portal called One Planet Academy.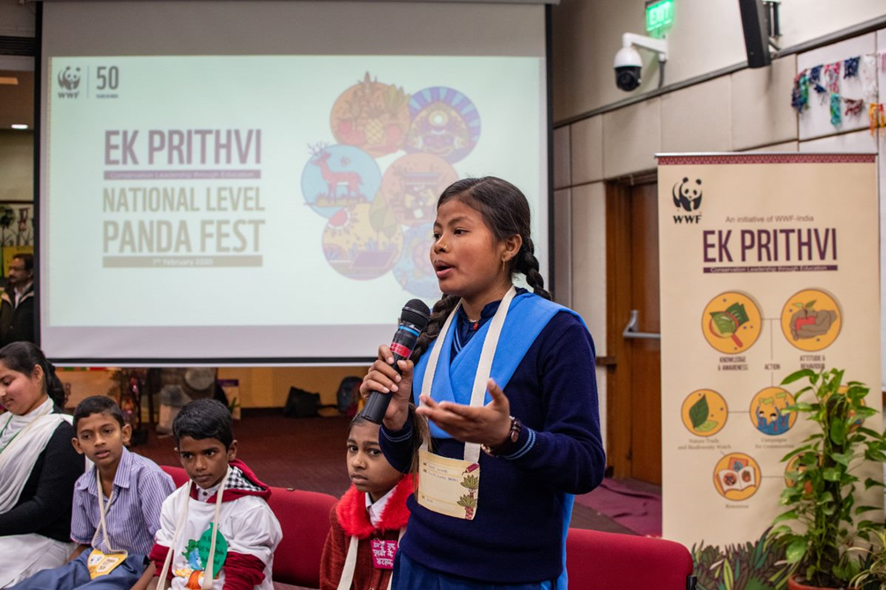 Q3. Textbooks have dominated EE for years, but lately, there has been a steady increase in environmental literature for children. What role do you think environmental literature plays in EE?
Environment education by its very nature is multidisciplinary. Different subjects can be taught through it. But the environment is so much more, isn't it? There's so much to experience, so much to observe in the natural world! EE helps us to build our knowledge and understand our relationship with the natural world. So, EE can prompt a teacher or student to closely examine a tree in the neighbourhood. But environmental literature, through delightful stories, can engage the reader, fuel their curiosity about biodiversity, and inspire them to explore the variety of plants and animals in their neighbourhood, or how they are all interconnected with each other and us!
Q4. WWF India began to focus more on publications starting some years ago. What was the thought behind this move?
There's been a lot of misinformation and misconceptions about climate change and the environment out there. As WWF is a science-based organisation, we are equipped to provide scientifically accurate and vetted content that educates people about the environment, biodiversity and conservation. So, around 2015, we decided to add publishing high-quality and informative environment-themed publications to our areas of focus. The reader has changed with the times too. So, to connect with as many children and young people as possible, we've made scientific information more palatable and interesting by publishing content in interesting and bite-sized formats. We've got brightly illustrated and informative field guides, story books, comic books, quiz books and more! You can explore them on WWF India's nature store.
Q5. What are the kinds of books that you're looking to publish and why?
We would like to publish books that dispel myths or overcome misconceptions while also building a fascination for the natural world in our readers. For example, there are many false beliefs and misconceptions about snakes, which lead to many being needlessly killed. Our EEEEEEKKKs! series about creepy crawlies such as cockroaches and ants deals with exactly these kinds of misconceptions and highlights how all these creatures that make us shriek "Eeekks!" have an important role to play in our world and are, in fact, pretty amazing!
We're looking at publications in different formats too because we need to cater to the changing reader who is surrounded by the distractions of technology! So, we've published information in new and unique formats such as comics and quiz books. Our quiz books, the Wild Wisdom Quiz Book set, are a big hit and are filled with fascinating trivia.
If you have an interesting idea for a green publication, you could send us a proposal at [email protected]
Q6. Are there any new EE initiatives that are in the pipeline at WWF India? Could you tell us a little about them?
We've recently launched a wonderful digital platform called One Planet Academy, or OPA. OPA is perfect for "Learning and teaching; from nature, for nature". It's packed with all sorts of exciting resources for learners of all ages to explore. There are games, stories, comics, a virtual forest experience, and much much more. You can visit the portal at https://academy.wwfindia.org/. Isn't that a great way to bring nature closer to today's digital learners? We've got other initiatives in the as well. We're looking at launching green libraries with literature on environmental themes and starting other initiatives that encourage children to read green books. We're also looking at new formats and themes for publications, and we hope to bring the environment to children and young people everywhere in many more new and exciting ways.