In our first pairing for the literary exchange, we look at secret green places of childhood setting off bold adventures.
Twitch has three pet chickens, four pigeons, swallows nesting in his bedroom and a passion for birdwatching. On the first day of the summer holidays he arrives at his secret hide to find police everywhere. A convicted robber has broken out of prison and is hiding in Aves Wood. Can Twitch use his talents for birdwatching in the hunt for the dangerous prisoner and find the missing loot?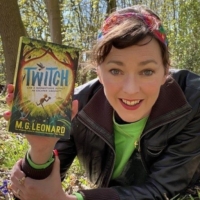 MG Leonard burst into bookshops with her quirky debut Beetle Boy that soon went on to become a bestselling series. This led her to becoming a vice president of the insect charity Buglife, among other things. Her books have been translated into more than 40 languages and have won several prestigious awards. She has a first-class honours degree in English literature and an MA in Shakespeare Studies from Kings College London.