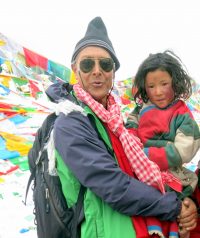 Shekhar Pathak is a Himalayan traveler, historian, academician and former professor of History at Kumaun University, Nainital. He has published books, research papers and articles, and edited 20 volumes of PAHAR (People's Association for Himalaya Area Research) and dreams of editing a few more volumes. In 2019, his work on the Chipko movement 'Hari Bhari Ummeed' was published by IIAS and Vani and in 2021 Permanent Black has published the book's English translation, titled 'The Chipko Movement: A People's History'. This year, his collection of his essays 'Dastan-i- Himalay' (two volumes) has also been published by Raza Foundation and Vani in 2021.
He is currently working on 'The Idea of Opening of Himalaya'. He is also finalizing his death touching higher and trans-Himalayan journey from Gangotri to Badrinath crossing over Kalindikhal (pass) and a few other journeys in Himalaya (India, Nepal, Bhutan and Tibet).
He was awarded Padma Shri for education and literature (which he returned in protest against violence, hate and intolerance in contemporary India and criminal assault on Himalaya) as well as the Rahul Sankrityayan Award for travel writing and a few other awards. He has been a fellow at Indian Institute of Advanced Study(IIAS), Shimla and Centre for Contemporary Studies at Nehru Memorial Museum and Library, New Delhi.