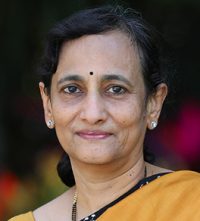 Professor Padmini Srinivasan, works in the Finance and Accounting Area at the Indian Institute of Management Bangalore. She is also the Chairperson, Centre for Corporate Governance and Citizenship. Prior to that she was the chairperson of the PGP (MBA) Programme.
She is a PhD from the National Law School of India Bangalore, and a Fellow member of the Institute of Chartered Accountants of India and an Associate Member of the Institute of Company Secretaries of India. She is also an member of the Academic oversight body of the International Integrated Reporting Council.
As a faculty at IIMB, her teaching and research interests are in the areas of Financial Accounting and Reporting, Corporate Governance, Environment Sustainability, CSR and Risk Management. Her teaching career includes teaching in institutions including at the IIITB and National Law School of India, Bangalore and at the University of Exeter, UK.
Prior to joining IIMB, Dr. Srinivasan has worked in the Industry for more than fifteen years in various positions in Finance, Treasury, Planning, MIS and Accounting. Her industry stint also includes consulting for a multinational firm in Indonesia. She has served as consultant to many organizations and also conducts corporate training programs.