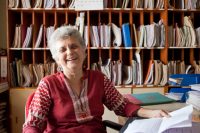 Norma Alvares is an advocate of the Bombay High Court and an activist and campaigner on social and environmental issues of public concern.
For the past thirty years Smt Alvares has argued, entirely free of cost, around three hundred Public Interest Litigation (PIL) cases in the Bombay High Court, the National Green Tribunal and in the Supreme Court on environment issues, human rights, gender equality, animal welfare etc. for Goa's NGOs and citizens groups.
Smt. Alvares has been appointed Amicus Curiae (Friend of the Court) by the High Court in several petitions and is a member of the High Court Legal Services Committee which ensures free legal aid to the weaker sections of society.
Smt. Alvares is also a well-known animal welfare activist. She is the chairperson and founder trustee of the Federation of Indian Animal Protection Organisations (FIAPO), which has over 200 member organisations from across the country. She is also the President and Founder Trustee of People for Animals-Goa, which has established several animal shelters in Goa to assist the authorities to control stray dog population and provide relief to injured animals.
For her publicly acknowledged work in relation to the protection of the environment, women's empowerment and animal welfare she has received several accolades, including the Padma Shri from the Government of India and the Yashadamini Puraskar from the Government of Goa.