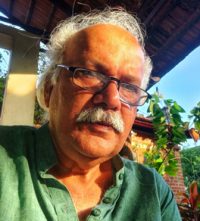 MURALI SIVARAMAKRISHNAN — poet, painter, professor and literary critic, is the author of The Mantra of Vision (1997), Learning to Think Like Myself (2010), Communication, and Clarification: Essays on English in the Indian Classroom (2014) Strategies and Methods: Relocating Textual Meaning (2018) and a number of critical essays and seven volumes of poetry.
As artist and poet he is a committed environmentalist. His paintings have gone on display at several major exhibitions. He has held fifteen solo exhibitions of his paintings. He is a member of the scientific committee of English Studies, University of Valladolid, Spain. He was also a Fellow at the Nehru Memorial Museum and Library, Teen Murti, New Delhi, and an Associate of the Indian Institute of Advanced Study, Shimla. He is member and coordinator of research of the Herman Hesse Society of India.
Dr S Murali is the founder President of ASLE India. Murali's Nature and Human Nature: Literature, Ecology, Meaning (2009) is a pioneering work on Indian ecocriticism. Its sequel, Ecological Criticism for Our Times: Literature, Nature and Critical Inquiry (2011)–ASLE India's second book—has also received high accolades. He was awarded a Fulbright Postdoctoral Travel Grant to teach and do research in the University of Nevada at Reno(2006), and was invited to read his poems as part of the inauguration of the International Conference on Poetic Ecologies, held in the Universite Libre de Bruxelles, Belgium, in May 2008.   Recently he was invited to present plenary lecture at the ASLE Brazil Conference in the Federal University of Amazonas, Manaus, Brazil.
Murali's sculpture (cast in fibre) of Prof CD Narasimhaiah, now adorns the conference hall of Dhvanyaloka, Mysore. Murali was featured as Poet-Artist in Indian Literature, Jan-Feb 2010, 255, pp. 127-132.
The other books he has authored include: South Indian Studies (Ed) (1998); Figuring the Female: Women's Discourse, Art and Literature (2005)' Tradition and Terrain: Aesthetic Continuities. (both co-authored with Dr. Usha V.T.); Ecological Criticism for Our Times: Literature, Nature and the Critical Inquiry ( 2011); Under the Greenwood Tree: Reading for Pleasure and Comprehension.(Ed) Hyderabad: Orient Blackswan, 2011;Image and Culture: The Dynamics of Literary, Aesthetic and Cultural Representation.(2011); Inter-Readings: Text, Context, Significance. Ed. (2012); Communication, and Clarification: Essays on English in the Indian Classroom. 2014; Sri Aurobindo's Aesthetics and Poetics: New Directions(2014) and Strategies and Methods: Relocating Textual Meaning(2018)
Awards include the Life-Time Achievement Award for Poetry by GIEWEC, Guild of Indian English Writers, Editors and Critics, 2014. And IMRF Excellence Award, 2015
Poetry volumes: Night Heron (1998); Conversations with Children (2005); Earth Signs (2006); The East-Facing Shop (2010); Selected Poems (2014) Silverfish (2016) and Notebook of a Naturalist (2020)